Home > Train Travel in India
Train Travel in India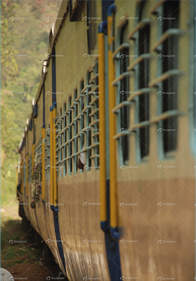 Important information about train travel within India. Information about trains,classes of travel, and what to expect while on board.
Indian Railways has one of the largest and busiest rail networks in the world, transporting over 18 million passengers and more than 2 million tonnes of freight daily.It is the world's largest commercial or utility employer, with more than 1.4 million employees. The railways traverse the length and breadth of the country, covering 6,909 stations over a total route length of more than 63,327 kilometres (39,350 miles). Indian Railways operates about 9,000 passenger trains daily across twenty-eight states and one Union territory. Pondicherry, Sikkim, Arunachal Pradesh,and Meghalaya are the only states not connected by rail.
It is often said, that the best way to see India, is at ground level on the Indian railway system, and not at 30,000 feet. In fact, no visit to India would be complete without the experience of travelling on Indian trains and negotiating busy Indian railway stations! From the warm-heartedness of the people to the scenery and the wonderful sights, train travel in India is a memorable experience. Train travel in India is safe, cheap and (in AC classes) comfortable. Even long distances such as Mumbai to Delhi or Delhi to Varanasi can be covered more time-effectively than flying, using overnight sleeper trains.The trains in India go almost everywhere, and it's generally safe to assume that you can travel between any two Indian cities or major towns by train.
The Indian Railway network, also encompasses two UNESCO World Heritage sites — the Chatrapati Shivaji Terminus in Mumbai, and the Mountain railways of India, or the Hill trains, as they are popularly known as. There is not one, but rather three Hill trains, operating in different parts of India, that form a part of the UNESCO World Heritage Site.
Train travel in India, is relatively inexpensive, when compared to it's Western counter parts, and is now also easy to book. Luxury Tours of India is happy to provide information and arrange bookings for those seeking to travel by train within India.
In addition to the Luxurious trains, that operate between the major metropolitan cities like Delhi – Mumbai, Delhi – Kolkata, Delhi – Chennai, Delhi – Rajasthan etc., there are also several other popular tourist routes, where we recommend train travel. Some of them are.
Luxury trains in India...
Golden Chariot-

The Golden Chariot train provides the facility to Embark on a luxurious voyage of discovery through the Cradle of Stone Architecture. The Golden Chariot - Pride of The South train named after the famous Stone Chariot in Hampi, a world heritage site, in Southern India will travel through timeless Historical Heritage Sites, Resplendent Palaces, Wildlife and Golden Beaches. It's 7 Nights / 8 Days colorful journey begins every Monday from Bangalore and traverses through Mysore, visiting Srirangapatna, Mysore Palace; the Nagarhole National Park (Kabini) and continuing to the historical sites of Shravanabelagola, Belur-the 11th century cradle of Hoysala architecture and a world heritage site, Halebidu, Hampi and thereafter entering into the triangular heritage site of Badami, Pattadakal, Aihole, and finally the Golden Beaches of Goa before ending in Bangalore.

Maharaja Express-

A train that can be rightly referred to as a personification of style, luxury, lavishness and grandeur - Maharajas' Express enjoys the status of being India's most opulent luxury train. What it offers is far more than just a train journey - it lets you explore India' most exotic and colorful locations like the battle scarred forts, the palaces of breathtaking grandeur and whimsical charm, wildlife parks and sanctuaries surrounded by barren mountains and the raw natural beauty of lakes and water bodies. All in all, a journey aboard Maharajas' Express offers a kaleidoscopic fiesta that lures you with its magical richness and stunning variety.

Palace on wheel-

The name "Palace-on-Wheels" (POW) was derived from its royal back-ground of the coaches & first introduced in 1982. A new meter gauge air conditioned Palace-on-Wheels was introduced in 1990 & had 13 Saloons, 2 Restaurant cum Kitchen car, one Bar cum Lounge and 4 Service Cars. In order to further increase the amenities on the train and due to over all gauge conversion in the state, a new broad gauge Palace-on-Wheels has been constructed. & has been running since 1995. Its 14 Saloons are inter-connected, the interior matching the aesthetics of the royal states. The cabins of each saloon name attached with showers. The train also has a well appointed lounge, library, bar & dining cars. Rajasthan today attract millions of tourists from around the world owing to its unique romantic allure. Forts, palaces, bazaars and colorful people form the backbone of Rajasthan tourism and this luxury train put the shining star in the sky of Rajasthan.

Royal Rajasthan on Wheels-

The Royal Rajasthan on Wheels is designed and embroidered in a contemporary royal style to experience the existing regal luxury, taste a slice of royalty and enjoy a royal feast onboard, where every moment is woven together into an everlasting and immemorial experience to be lived and cherished forever. The magic of the splendid journey to the land of kings, majestic forts, incredible palaces, temple towns, diverse cultures and varied landscapes starts from Delhi. Discover the adventurous escapades to the wilds of Ranthambore, visit to the magical destination of Udaipur, perceive the intriguing sagas of forts and palaces of Jaipur, glimpse the art and sculpture of the temple of Khajuraho, on to the spiritual experiences at Varanasi and see the wonder of the world at Agra.

Deccan Oddesy-

The Deccan Odyssey's sheer luxury is a sight to behold. Everything in the train reflects the ways of Indian Royalty. The plush interiors, an awesome delicious cuisine and grate sites to see makes the journey memorable. This luxurious train transports its guests on a remarkable sojourn of a land shining in legions grandeur - serene beaches, magnificent forts - palaces and experiencing divine tales etched in colossal rocks. A weeklong royal journey is through some of the best places in Maharashtra namely Mumbai, Sindhudurg, Tarkarli, Goa, Kolhapur, Aurangabad, Ellora, Ajanta and Nasik. The objective of running "The Deccan Odyssey" train is primarily to showcase the best of tourism assets of Maharashtra like pristine beauty of Konkan coast, the art, the culture, the heritage (including world heritage sites of Ajanta - Ellora) of Maharashtra as well as Maharashtra's local arts, crafts and cuisine.
Tips for Train travellers
Here are some tips for train travel in India to make your trip on Indian Railways as enjoyable as possible.
Always use the services of the licensed guides of the Govt.
Use sunglasses, caps and parasols for protection from sun.Carry your swimming gears, if you wish to swim at hotels.
Do not accept edible items from strangers or the so called friends during a train journey as at times you can loose consciousness and open your eyes in the hospital and discover that you have been robbed of all your belongings.
Bring a good book! This is the best time to catch up on your reading.
Shop at government authorised counters/ emporiums i.e. Rajasthali at Jaipur, Jaisalmer, Udaipur & Agra.
The lure of the lavish hospitality extended by strangers is avoidable. Women in particular should be alert!
Do not encourage beggars and hawkers.
Do not carry valuables while on safari.
Every traveller on the POW must possess a valid ticket either paid for or complimentary. Unauthorized travel is illegal under the Indian laws and may invite prosecution.
RTDC/Railway staff shall display identity cards at all times. If you find anyone lacking in this requirement, please bring it to the notice of senior manager POW, or MD, RTDC through the prepaid inland letter.